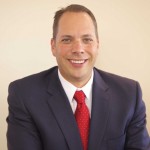 Justin is currently a pilot for United Airlines and flies the Boeing 757 and 767 aircraft on international and domestic flights. Additionally, he has retired from Umpiring Baseball for the NCAA where he umpired 11 seasons.
Justin was raised in Oregon and was selected to be a Rotary Exchange Student to Brazil spending his 16th & 17th birthday abroad. After his exchange he attended the University of Oregon receiving a Bachelors of Science. During this time he also attended Rotary's Leadership Conference (RYLA) at the age of 19. He continued his education in Florida, at the 'Flight Safety Academy' earning his instructor wings and was hired by the United States Air Force Academy in Colorado Springs, Colorado working as both a Flight Instructor and a Ground School Instructor. After one year he became a mountain check pilot and evaluator for the cadets. Being a ground school instructor Justin taught a variety of courses including Crew Resource Management, a leadership course within the aviation community. After just two and one-half years Express Jet (formerly Continental Express) hired him in the year 2000. Justin continued working his way up the flight ranks and umpiring for college baseball as well.
In the airline industry, Justin attended many different leadership courses. In November 2011 Justin was asked by the Rotary International District 7980 to assemble a personal and professional Leadership Course designed for young adults, which is how Advanced RYLA (ARYLA) took flight. The overnight international success with ARYLA paved the path for Gobal Leadership Initiative, GLI.
Justin is a Rotarian at the Westport Sunrise Rotary Club residing in Westport, Connecticut with his son Will, and his daughter Alexa.